Dive HQ Auckland is offering an exciting opportunity for adventure enthusiasts and aspiring divers to embark on a journey that will lead to internationally recognized certifications and a rewarding career in scuba instruction.
The NZQA Diploma in Professional Scuba Instruction awaits those who are eager to explore the underwater world of New Zealand and beyond.
What's in store for you? Let's dive right into the details!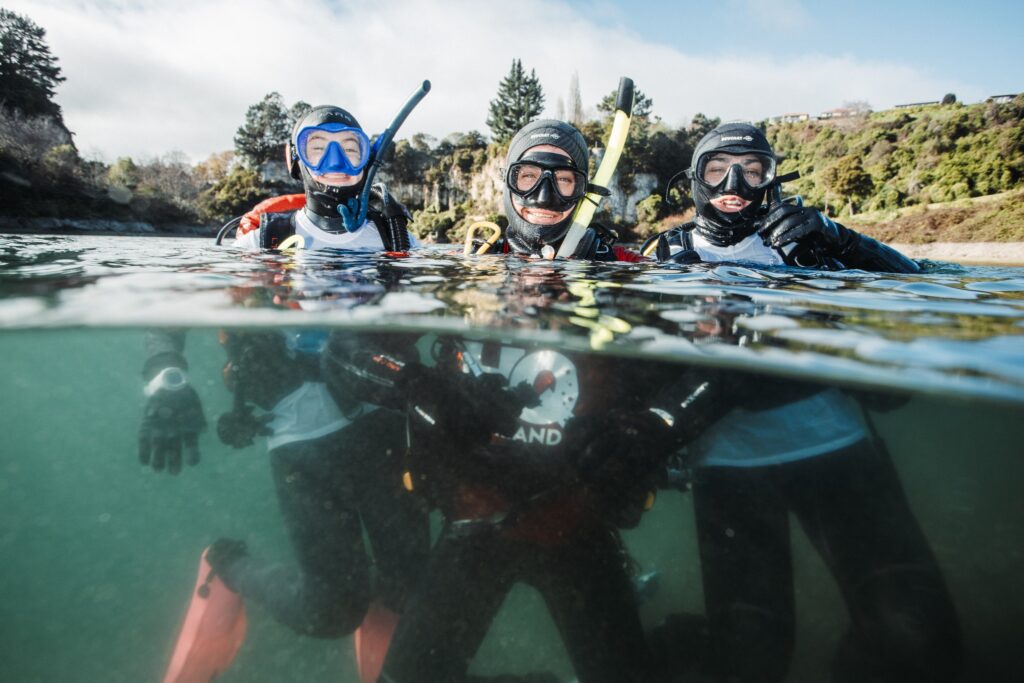 The Programme:
The Diploma in Professional Scuba Instruction is a comprehensive full-time course completed in just under a year. The 44-week program runs four days a week, from Tuesday to Friday, providing you with the skills and knowledge required to become a PADI Specialty Instructor with five specialty instructor certifications.
The Course Runs:
Monday- Thursday or Tuesday- Friday Depending on which group you are in.
Time is 9-5 each day but these times may change slightly depending on what is being studied. We always give you notice and we adapt timing to the group.
The learning is a mix of classroom group learning then practical, and we give you lots of opportunities to get as many dives as you can and as much practical experience as possible. At Divemaster you can work with our recreational customers and Professional Scuba Instructors so you can learn in a vocational environment.
Fees Free Eligible Course:
The best part? This course is Fees Free and Study-link Eligible for eligible candidates, making it a fantastic opportunity for those passionate about diving to pursue their dreams without financial barriers. Scholarships Available too.
For the latest course price and an outline of course needs please contact us directly as each person's situation is different and we can talk you through your options.
No Experience Required:
Don't worry if you're new to diving; this course is open to all, regardless of your previous experience. The program covers everything to teach you to teach basic snorkeling lessons and Try Dives to Instructing Wreck Diving and it takes you from a PADI Open Water Diver to a qualified PADI Specialty Instructor. Whether you have done diving before, a bit of snorkeling or are a qualified SSI Diver. We can turn you into a fully qualified and highly regarded, PADI Dive Instructor ready to hit the global jobs boards or apply for an opportunity in New Zealand or in Australia. You are only limited by your own imagination and determination to be on a career pathway into an exciting and rewarding career
Exciting Inclusions:
The Dive HQ Auckland experience comes with a wide range of benefits and inclusions:
Internationally Recognized PADI Certification: You'll earn a PADI certification, the world's largest diver training organization, opening opportunities to work in over 180 countries.
Expert Professional Tuition: Dive HQ Auckland prides itself on offering passionate and experienced PADI dive professionals as instructors, ensuring top-notch education. Our In-house Course Director and Owners are regularly contacted to enquire about the next group of graduates coming through on our program.
Extensive Practical Training: The course includes over 100 logged training dives in various diving environments, providing valuable practical experience.
        Field Trips and Excursions: Explore the breathtaking underwater world of New Zealand with four or more dive trips, including destinations like The Waikato River Drift Dive, Rainbow Warrior, HMNZS Canterbury Wreck, and the Poor Knights. We use our national dive partners for trips, so you can dive in lots of different regions and different boats. By meeting all these other New Zealand Dive Operators, you get the chance to network with other people in the industry.
All Accommodation and transport to the dive sites is included in the course costs.
Equipment Support: Students have the option to choose from Pay-as-you-go scuba gear packages or avail of Lease to Own payment plans for their diving equipment. We offer our students good rates on packages and along with this you have access to free air fills and use of your gear on weekends to build up your dive numbers.
Because the course is Full-Time you can use an additional $1000 of your Student Loan to put towards a Gear Package that will be the equipment and tools of your trade when you set of on your Diving Career. All Employed instructors are expected to have their own gear. For the first few weeks you use Dive HQ Auckland Scuba Gear then we work towards getting you your own gear packages. You then have the opportunity to pay down your gear over the rest of the course's duration.
Dive Buddies and Supportive Community: Dive HQ Auckland offers a friendly and approachable support network for our Scuba Students. While on course and as Alumni we can support you and advise you on career pathways. Make friends for life and become part of our community.
Age Requirement:
To join the Diploma at Dive HQ Auckland program, students must be at least 17 years old, with the age of 18 required prior to starting the PADI Divemaster certification.
How to Enroll:
Enrolling is easy; simply reach out to Dive HQ Auckland through our contact options, including email, text, or in-store inquiry. Their friendly team will guide you through the application process.
Next enrolment is:
15 August 2023 then February 2024
Is the Qualification Valid Worldwide?
Absolutely! The PADI certification is recognized worldwide, opening opportunities for divers to work and teach in various international diving environments.
Get Ready for the Dive of a Lifetime!
If you're ready for an exciting year of study and diving adventures, Dive HQ Auckland has got you covered. Whether you're a local or an international student, the world of underwater exploration awaits. Don't miss this opportunity to turn your passion for diving into a rewarding career!
So, take the plunge, enrol now, and gear up for a life-changing experience. Let the underwater adventure begin! Tours of the facilities and informal meetings and interviews are taking place this week and the next few weeks.
09 213 1328- Mike
Dive HQ Auckland 50 Frost Road Mount Roskill 1041 Auckland 09 213 1328