I started the Diploma in SCUBA Instruction at Dive HQ Westhaven in March 2017, about three weeks after the course had started. I'd just spent 3 months traveling Europe and wasn't interested in heading back to my desk job, so I decided to pursue a change of career that would help quench my thirst for adventure. Remembering how amazing my diving experiences were in New Caledonia when I was first certified, I inquired with Dive HQ Westhaven after seeing an ad on Facebook. A week later I started my Diploma!
Even though I enrolled in the course late and hadn't dived in many years, Mike and Hannah made it super easy to get started and get back in the water. I was a little nervous in the beginning but it didn't take long for things to come flooding back, and now I can't believe I waited so long!
For me the course has the perfect mix of theory and practical exercises – learning all about dive theory, different diving skills and techniques in class and then getting out and reinforcing them is a great way to learn, and every dive is a unique experience.  Marine Identification Photos
And there's no shortage of unique experiences! Our field trip to the HMNZS Canterbury was incredible; exploring a sunken ship 30m deep, schooling fish swirling all around me, coming face to face with the 'Captain' snapper in the cockpit is something I'll never forget. Then there was the dive at Leigh where a pod of dolphins swam rings around us. All this in just a few months!
Now I'm at at level and I've got so much confidence in and around the water. I really enjoy the opportunities to assist on PADI Openwater courses in the weekends to practice my teaching skills. It's a great way to meet new people and find more potential dive buddies!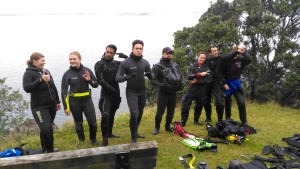 I'm looking forward to becoming qualified as a PADI Specialist Instructor in December and landing an amazing job in the dive industry – there are so many great opportunities, all over the world! If you've always wanted to give diving a go or want to get back into it, I can't recommend it enough.
---
Thank's to Andrew Sawtell for his blog. Andrew and his fellow student Dan were lucky enough to be diving the Rainbow Warrior last week and filmed this footage of a rarely seen NZ Thresher shark. If you think you or someone you know might be looking for an exciting Diploma to complete text us on 021 0250 8990 "careers" and we'll call you or click through and contact us on the website. To keep updated about what's going on at Dive HQ Westhaven and on the Diploma in Professional Scuba Instruction follow us on Facebook or Instagram.