Introduction:
Are you planning a Pacific getaway or holiday away from a New Zealand Winter? Well, hold your seahorses! Are you dreaming of exploring the deep blue sea and all its fishy wonders? Well, let Dive HQ Auckland school you why learning to dive before your trip is the best idea since Finding Nemo. Trust me, it's way better to get your PADI Open Water Diver Certification before you hit the Sunny Pacific Shores than floundering around like Dory out of water. So grab your Mask Fins and snorkel and get ready for your exciting underwater adventure! Here are 5 reasons why you should learn to dive with us before you travel…..
1: Avoiding Awkward Aqua Mishaps:
Picture this: You're on your tropical island getaway, all geared up in a borrowed wetsuit that's three sizes too small, and your mask is fogging up faster than that scene from Titanic 😉 Your dreams of becoming the next Jacques Cousteau, are drifting rapidly away. Meanwhile, other divers are jumping on the boat to head out for an amazing underwater adventure off the local reef where they will be gliding effortlessly through the deep waters, and executing graceful manoeuvres whilst getting to see some of the epic marine life and corals that are abundant in the Pacific Region. Learning to dive in advance saves you from becoming the main attraction in the "Clumsiest Diver" competition and ensures you make a splash in style! Let's face it you don't want to be the "talk of the resort" at the swim-up bar.
2: Confidence that Makes Aquaman Jealous:
Nothing screams "Confident Adventurer" like a Scuba diver who knows what they're doing. By getting your PADI certification before you jet off, you'll be as cool as a sea cucumber underwater. While fellow holiday divers are busy fumbling with their buoyancy control in the shallow pool, you'll have your skills on point and be impressing the local sea life and leaving Aquaman green with envy. Confidence is key, my friend, and with your PADI dive certification, you'll be the James Bond of the Pacific Ocean. Did we tell you PADI is recognised in over 183 territories and states around the world?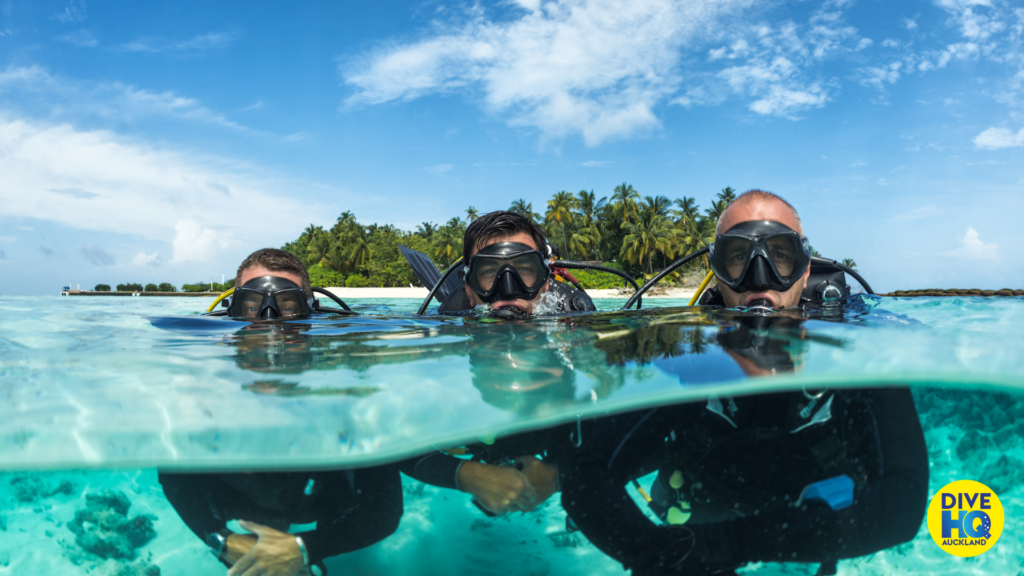 3: Eye-to Eye with the locals
Imagine arriving at a dazzling dive spot, surrounded by coral reefs teeming with vibrant marine life. Sounds magical, right? But hold on, if you're not certified, you're stuck on the side-lines or shoreside shall we say, like a spectator, we don't want you getting FOMO so we've got your back buddy. Learning to dive in advance or even better getting your PADI Advanced Open Water Diver Certification grants you VIP access to underwater wonderlands that only PADI-certified divers can explore, especially when it comes to wrecks and deep diving. You'll be swimming alongside sea turtles, discovering hidden caves, penetrating wrecks and having intimate encounters with curious tropical fish and perhaps even the odd curious shark. It's like having your own personal marine documentary, with you as the star! It's also the closest thing to flying, or so they say.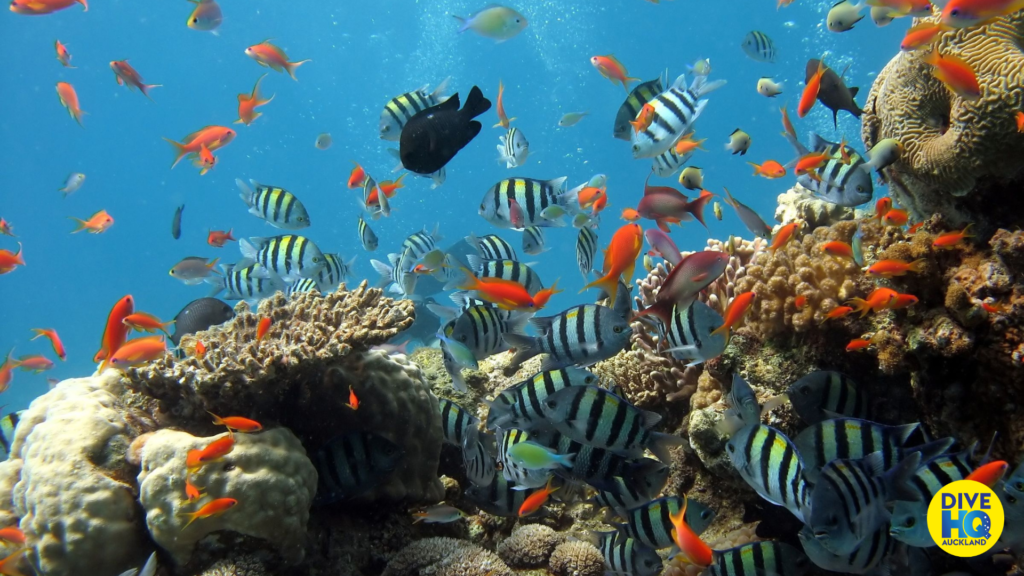 4: Save Your Dollars for Trips and Cocktails:
Let's talk about money, honey! Learning to dive in New Zealand before your Pacific holiday can save you some serious cash. Diving centres in tourist hotspots are notorious for pricing their courses like they're offering a private dive with Poseidon or Ariel themselves. But by getting certified back home, in Auckland with Dive HQ you can avoid the inflated tourist prices and dive into the Pacific or another tropical location with your holiday budget intact. Just think of all the extra piña coladas and beachside massages you can enjoy with those savings!
5: Barrel Rolls and Belly Laughs:
Learning to dive is not just about the serious stuff; it's also about having a whale of a time! We are the PADI Dive Masters of PUNS. Are we not? While diving underwater, you'll experience moments that are downright hilarious. Think of yourself trying to communicate with hand signals while your buddy responds with an unexpected dance routine worthy of a TikTok sensation. These shared laughter-filled memories will be the highlight of your trip, making your Pacific holiday unforgettable in more ways than one. Take your camera on your trip and capture your escapades on your underwater Go-Pro. No photos whilst you are learning sorry!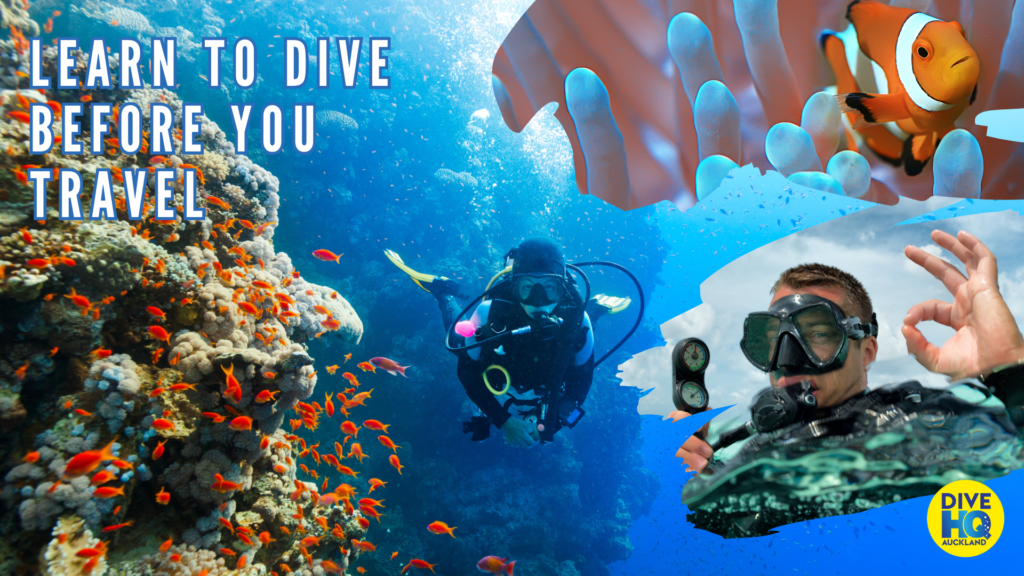 Conclusion:
And, back to the photo of those four on the lilo. Why is this scene not quite right?
Because they should be diving
Because those masks and snorkels don't fit. They need some advice to pick the right mask and snorkel
Because its, not 1980 and those colours just don't match up to the incredible range of styles and colours you can find in our dive gear range
Because you don't want to be the guy with his mask on his head. It's distressing, and if you don't know what we mean you need to come see us and we can educate you.
So, my adventurous friends, don't be a fish with stage fright or a lost little mermaid among seasoned divers. Take the plunge and learn to dive before your Tropical holiday away from New Zealand. You'll avoid those awkward aqua mishaps, radiate confidence like a true Aquaman (or Aquawoman!), explore magical underwater realms, save some moolah, and create hilarious memories that will leave you grinning from ear to ear. Remember, life's better underwater when you're a certified diver ready to make a splash! Get in contact with the team today and we will take your holiday to the next level.
We also have great deals on gear and dive bags ready to throw in the luggage hold. 09 213 1328