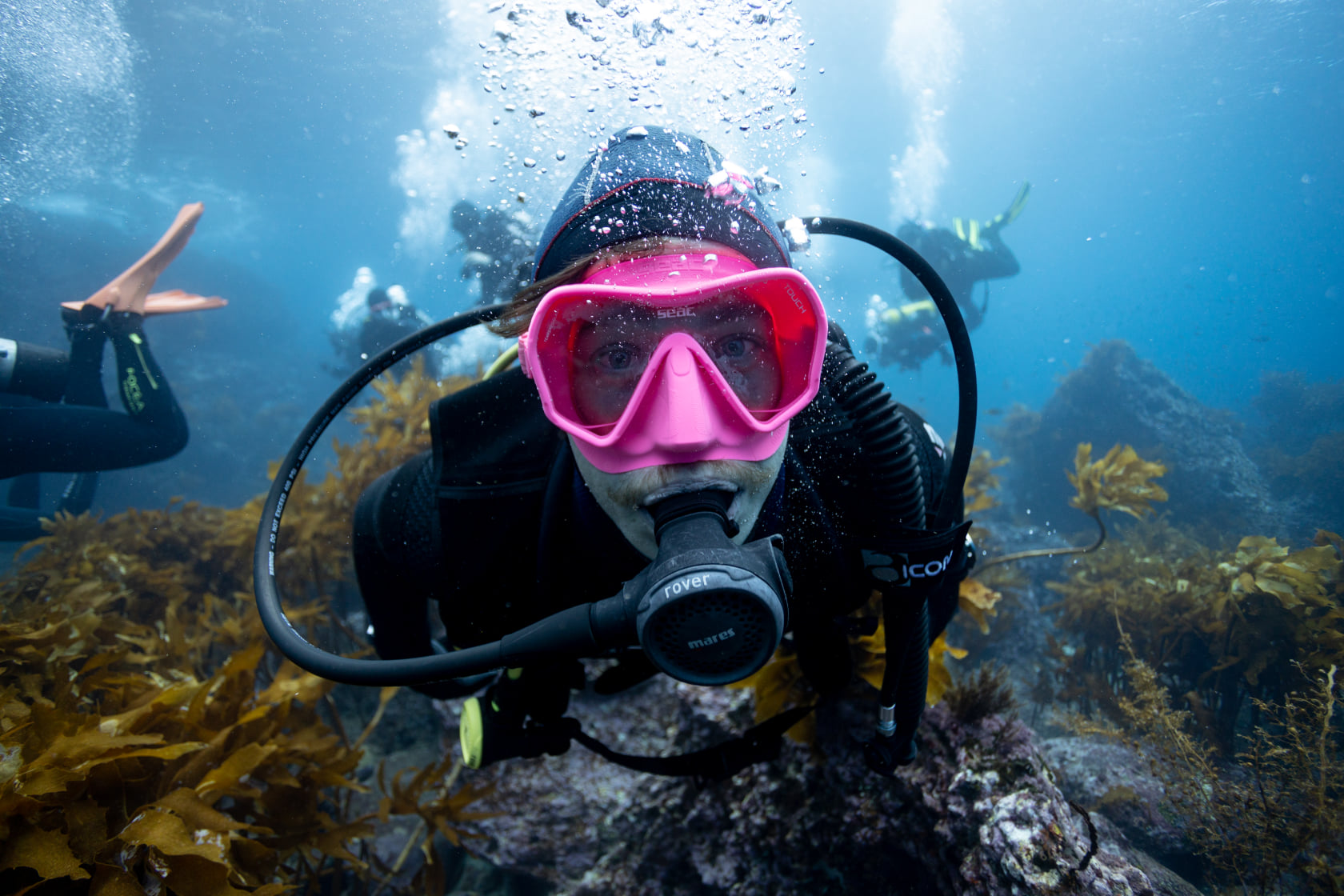 You've been thinking you need to try something new. Let's face it we aren't living these fantastic Islands of ours for a while so now is the perfect time to invest in your future. We think diving in New Zealand and Learning to dive in New Zealand is the best choice and here's our 1-10 reasons why…..
Here are 10 reasons to give diving a go:
REASON #1
A great activity for most ages: Anyone aged 12 and up can become fully certified in scuba diving. We believe 14 up is a better age but of course, it depends on the kid. There are divers who stay active into their 90s. This is an outdoor activity that can be enjoyed by all the family. Funnily enough, we have lots of families with teenagers coming to learn to dive as a family. You have access to a boat and let's face it apart from gearing up it's something you can do in silence. Together, quietly, peacefully under the ocean. Better than being stuck in front of the devices…'The family who dives together stays together' 😉 🤿 as they say.
REASON #2
Safe and easy: With proper skill, training and equipment, scuba diving can be a safe and easy activity to learn. If you can swim and if you can breathe, then you can dive! Bonus: Our course costs $599 for a two-weekend experience 2 days with your PADI Instructor in a local Auckland Pool, getting used to your dive gear and scuba equipment. Then the following weekend out at one of our local sites. Goat Island, Mathesons Bay, or Leigh Marine Reserve. We can even get you out to the Poor Knights to learn there at an additional cost.
You will need your own basic Mask, Fin, Snorkle, boot set. All other equipment is included in the course costs.
We have great deals for our Students. LATEST GET INTO DIVING PACKAGE. If you find it cheaper anywhere else let us know we can match it
REASON #3
Interact with undersea creatures: Connect with a stunning variety of undersea creatures from octopus, seahorses, nudibranchs (the David Bowies of the sea) and fish to large marine mammals such as orca and dolphins: sometimes. Personally discover the biodiversity in our oceans and see the things that most people only see in movies.
REASON #4
Experience tranquillity and freedom unlike any other: Most divers agree that while underwater, the noise and stress from daily life just float away. Slow, deep breathing, similar to that of meditative breathing, can help induce a calm and relaxed state while divers enjoy freedom from restrictions such as gravity and weight. Most people after a dive feel elated and invigorated. But that could be the amazing NZ air in our dive tanks.
REASON #5
An adventurous travel activity: Scuba diving can lead holiday plans or can become a part of them. Scuba diving is an adventure sport, and as with any adventure, it is sure to fill your life with incredible experiences. We are lucky enough to be near some amazing Dive spots all around the Pacific. Fiji, Vanuatu, and many other Pacific Islands have world-class diving. And we are only a few hours away. The Cook Islands are open to travel and hopefully in the not too distant future so will the other destinations. This is a perfect time to hone your Scuba skills and up your PADI Dive Course to the next level. PADI Open water Diver, the Advanced PADI Open water diver then PADI Rescue diver and PADI Divemaster. Or if you are looking for a life change and the chance to potentially work overseas then you should be talking to us about our Professional Courses NZQA Diploma in Professional Scuba Instruction which is Fees Free and Study-ink Eligible.
REASON #6
It's great for your mental and physical health: While being enjoyable and has a deeply personal connection to nature, diving can be a great way to get exercise. Scuba diving requires a sound mind and is a healthy and active lifestyle.
REASON #7
Meet great people: Become a part of a friendly and passionate community. Meet other like-minded people who love the same things you do and share your experiences with them. Dive centres and dive clubs are all over New Zealand and the rest of the world. There are so many online Facebook dive clubs all over NZ. Once you have your PADI Open water certification you can shore dive with buddies or search the forums and online clubs for posts that offer you the chance to jump on someone else's boat for the cost of fuel shares.
You'll also meet and bond with your Dive buddies as you learn to dive together. Teamwork and budding up, looking out for others are all part of the experience. Scuba Diving is a great social activity and most divers if not diving are talking about diving or the next bit of scuba gear they are going to buy or the next tech course or freediving course they want to take. Dive HQ offer a wide range of diving activities. Tech-diving courses are always available. Just contact us to book.
REASON #8
It's both a local and global activity: Scuba diving is an activity that is enjoyed throughout the world. There are hundreds of famous diving destinations and each spot has something unique to offer. A great diving location is never too far away, especially in New Zealand, Australia and the Pacific.
REASON #9
Get out of your comfort zone: Try something new and change your life. Scuba diving is an activity and a skill to be passionate about and proud of. Scuba diving can help boost confidence, promote self-awareness and increase life satisfaction.
REASON #10
Learn to appreciate and preserve marine life: Many creatures and underwater environments have been rescued and rehabilitated by the efforts of scuba divers. Those who spend time in and love the sea are constantly protecting wildlife by learning about marine life and fighting to preserve and protect it.
YOU'RE INTERESTED, NOW WHAT?
For anyone who has ever considered learning to scuba dive, Dive HQ Auckland is the best place to start. As one of New Zealand's most trusted PADI Dive operators, we get you out in the ocean and give you the opportunity to connect with the world of diving and its passionate community.
Come join us. The Dive HQ Crew, Mike, Michelle, Ollie, Chris, Kalani, Jake
Want to get started ready for the summer dive season?
Book your spot with a deposit, Laybuy or find out more here